A PhD or a Doctor of Philosophy is the highest academic degree a student can attain. Getting a PhD requires additional years of postgraduate education, which professionals often balance with a full-time job. This degree represents the great amount of knowledge the student has acquired, making them qualified for senior roles.
A PhD degree helps expand your knowledge as well as open career opportunities, particularly for jobs that require a doctorate degree. This article discusses what a PhD is, how to get this degree, how much a PhD costs, and why you should consider studying PhD.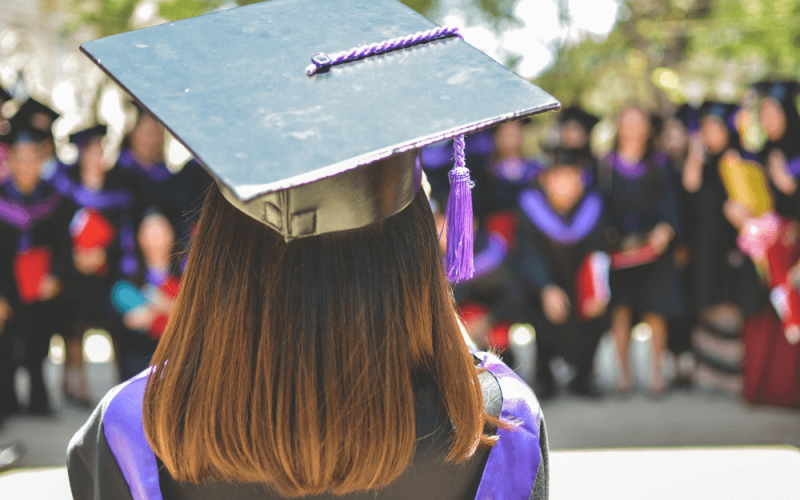 A PhD or a Doctor of Philosophy is the highest academic degree a student of the Humanities, Social Sciences, Engineering, and Business Administration may acquire.
This degree is awarded by higher education institutions and universities after students have studied or researched an area or topic in their field. PhD studies push a student's knowledge to a more specialized or focused area. So, a candidate for a doctorate degree in Information Technology may focus and specialize in cloud computing or cybersecurity.
As the highest degree awarded to students, there is a lengthy process to earning a PhD. Here are the steps to getting a PhD:
Get your bachelor's degree or the ETEEAP
Apply for graduate school to get your master's degree
Complete your master's degree program
Apply to a doctoral program
Perform the required coursework for a PhD
Establish a topic for study and begin your research
Defend your dissertation and publish your study in a reputable publication in your field
Graduate with a PhD degree
As you can see, the doctorate program is a continuation of your tertiary education. For some students, pursuing a doctorate degree means continuing an area of study that started in their undergraduate or master's thesis. For others, their studies are a way to supplement the knowledge they have gained in their careers.
Requirements to Get into a PhD Program
Postgraduate degrees typically have a separate admissions process than undergraduate degrees. You don't need to go through an entrance exam, but you will be asked to submit specific requirements, which the admissions program will evaluate.
Most postgraduate programs require an application form and some requirements. These requirements include your diploma/s, Transcript of Records, and recommendation letters from previous professors or supervisors.
These requirements imply that you need to have at least a bachelor's degree and you should have attained a certain grade to be admitted. Different higher education institutions have different grade requirements, usually a 2.00.
Do You Need a Master's Degree to Get a PhD?
Since a PhD is the highest academic degree, candidates are expected to possess a bachelor's degree and a master's degree. A bachelor's degree provides students with the foundational knowledge and skills to allow them to function in a professional capacity. Meanwhile, a master's degree develops students' capacity for research-based work, which ultimately, prepares them for further research in PhD.
While having a master's degree may make you more appealing as a doctorate candidate, there are some instances where you may be accepted into a PhD program without a master's degree.
Some educational institutions allow bachelor's degree holders to apply or enroll directly in the doctorate program. Other schools offer a dual degree program where students can work on their master's and PhD degrees simultaneously.
In conclusion, a master's degree is not an absolute requirement in some institutions, though most expect PhD candidates to have this degree. However, even if it is not required, a master's degree can still be an advantage in your doctorate studies.
Once accepted into the program, you will be studying, conducting research, and writing your dissertation. However, most of your time will be spent on your research. So, if you're worried about how to study for a PhD, expect a lot of reading and writing.
Here's a breakdown of how your studies will proceed:
During your first year, you'll be focused on coursework as your professors introduce you to more complex and advanced knowledge in your field.
In your second year, you will still have coursework, but you will also start planning your major research project – either a dissertation or a capstone project.
In your third year, coursework will be reduced as you will now spend most of your time building your research. In place of coursework, you'll meet with an advisor who will guide you throughout the dissertation. You'll start designing your research study, narrowing down your research questions, and so on.
In the next few years, you will conduct your research and write your dissertation. Once completed, you defend your dissertation or capstone project to a panel of professors and your advisor. If your study is deemed successful, you are awarded your PhD.
After that, all there is left to do is graduate.
How Long Does It Take to Get a PhD?
A PhD typically takes longer than both a bachelor's and master's degree. Depending on your field and your pace, it may take between six years to eight years to complete. Fields of research that have an in-depth scope tend to take longer to complete.
One of the primary reasons a PhD takes longer – besides the depth of the study – is because students typically work full-time or part-time jobs while getting their PhD.
How Much Does Getting a PhD Cost?
The cost of a PhD degree can vary greatly, depending on the field and school you apply to. On average, the tuition fee for a doctoral program ranges from P30,000 to P60,000 per semester.
At OEd PostGrad, a doctorate, such as an online PhD in Business Administration costs around P97,000 per year. The total amount may vary depending on the number of units you take per semester.
A lot of people doubt the importance and benefits of a PhD in today's world.
A common misconception is that PhDs are suitable for individuals interested in research and teaching. This is true; a doctorate degree emphasizes research that contributes to the existing body of knowledge and professors are the most incentivized to pursue this degree.
So, if you intend to work outside of the educational setting, why study PhD?
Acquiring a doctorate degree can be beneficial for your career, too. Since you gain advanced knowledge and skills, you can qualify for more senior positions. This means that you can advance your career with a PhD.
Furthermore, with your knowledge and credentials, you may have impactful contributions to your organization or line of work.
A PhD degree offers a wide range of benefits. Ultimately, it's up to you how you use it to further your career.
Complete Your Education with OEd PostGrad
Is a PhD the next step for you? Work while you earn your PhD at OEd PostGrad.
We have online postgrad programs for Business Administration and Information Technology that will help you cultivate the knowledge and skills you need to advance your career.
Start earning your Phd degree today at OEd PostGrad. Send us a message to learn more about our programs.